On April 12th, 2012, Canon announced a new "DSLR" specifically for high end video users.  The new Canon EOS 1D C is a -for all intents and purposes- suped up version of the still yet to ship Canon EOS 1D X.  The 1D C can take excellent still images comparable to the 1D x, however it adds the huge feature of 4K video capture.  Canon clearly wasn't aiming this new camera for the average professional photographer.  The 1D C is expected to cost $15,000 dollars which is $8,200 dollars more expensive than the comparably inexpensive 1D X.
4K Video Capture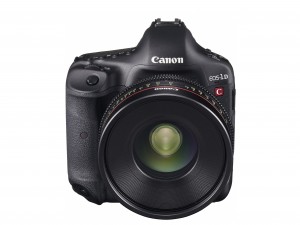 The 1D C's headline feature improvement is 4K video capture.  This is a huge upgrade over the current standard 1080p "HD" video.  4K video captures video at a resolution of 4,096 by 2,160 pixels.  This totals more than 4 times as many pixels at 1080p.
Don't think this is another DSLR that is aimed at photographers who may be interested in some high quality video.  During the launch of the EOS 1D C, Canon made it clear that this camera is a a "35mm 4K motion imaging camera augmented with high quality HD motion imaging and an addition of 35mm full frame still image capture."  They were clearly trying to differentiate the EOS 1D C from a DSLR with video capability, despite its outward appearance.
The 1D C's Compact, Durable Body
Apart from the headphone jack, the housing of the 1D C's body is identical to Canons 1D X and all previous iterations of the professional grade 1D line.  This offers two main innovative features for 4K video shooting:
Lightweight camera housing that can be easily maneuvered for difficult and complex shots, and
A completely weatherproof and shockproof housing that can capture excellent 4K video in even the most adverse conditions.
Overall, this camera will be an excellent B-roll camera to enable videographers to achieve shots previously difficult or impossible to film.
The Canon 1D C is 100% compatible with the entire EOS lineup of EF lenses.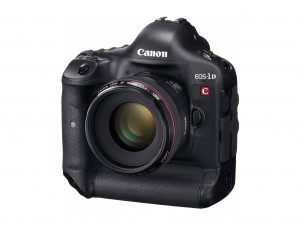 Although the exterior of the 1D C is identical to the 1D X, there are some important changes.  You will however, have to take a look inside to notice the differences in these two cameras.
Inside the Canon EOS 1D C
The 1D C has multiple 4K shooting modes including 24fps 8-bit capture in a 4:2:2 ratio in both compressed capture to a CF card or in an uncompressed format over HDMI.  It should provide superb image quality for a variety of uses that large, clunky, conventional video cameras simply cannot.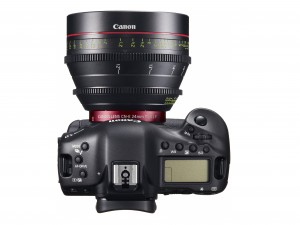 It is important to mention that while 4K is an awesome upgrade from 1080p, it may not have the significant upgrade in everyday use that some people may anticipate.  At the average viewing distances for home video, most large screen TVs are already what some may consider a "retina" display.  What this means is that the pixels are at the highest resolution a human eye can resolve.  The 1D C is more likely to be used for more serious cinematographers who are going to be displaying their videos on the big screen.
Review
It is unlikely I'll ever have the chance to hold one of these bad boys in my hand, but if I do I'll be sure to write up a full review and publish it here!
The Canon EOS 1D C is supposed to be available in 2012, but for now, you can only salivate over the press photos.
Specifications
| | |
| --- | --- |
| Brand | Canon EOS |