On Monday July 23rd, 2012 Canon released their long anticipated mirrorless interchangeable lens camera system, aptly named EOS M for mirrorless.  Along with the EOS M camera, they have released the new EF-M lens mount and two new EF-M lenses.  They are:
Canon 18-55mm f/3.5-5.6 IS STM, and
Canon 22mm f/2 STM Pancake Lens, shown below.
An interesting piece of history about the name "EF-M" is that Canon has already used the name prior to releasing the lenses for their "mirrorless" camera lineup.  In 1991, Canon released the EF-M film camera body.  The EF-M was the only manual focus camera body with an EF lens mount.  The camera wasn't very popular and didn't sell very well, leading to its discontinuation.
Canon EF-M 22mm f/2 STM Pancake Lens Review
The Canon EF-M 22mm Pancake Lens isn't expected to ship until October, however many observations can be made about this new lens.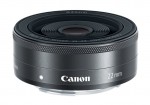 First, it is obvious that this lens will be light weight and slim.  This will make it extremely easy to carry around and even put in your pocket!  Inside this tiny body are 7 lens elements, including an aspherical element to help produce sharp, contrasty photos.
The 22mm focal length will be approximately equivalent to 35mm on a full frame camera.  This is a moderate wide angle and should be excellent for general purpose photography and video.
The lens's f/2 aperture should be excellent for low light performance.  Additionally, at closer distances it should provide great bokeh (background blur) for portrait photos.  In addition to being able to blur the background, the bokeh produced by this lens should be pleasant because of the 7 aperture blades.  Combined with the mere 5.9 inch minimum focusing distance, this lens should be versatile enough for a variety of creative shots.
Finally, the EF-M 22mm utilizes an STM (stepping motor) for fast autofocus.  This is especially important for video capture as the STM and Canon's new Hybrid CMOS AF system will allow continuous, smooth and nearly silent autofocus.  This is the same system and the same sensor as the Canon T4i / 650D, which has looked excellent in preliminary tests for both video and still photography.
Full Specifications
Focal Length: 22mm
Maximum Aperture: f/ 2.0
Lens Construction: 7 elements in 6 groups
Closest Focusing Distance: 0.49 feet (0.15 meters)
Size: 2.4 x 0.9 inches / 60.9 x 23.7mm
Weight: 3.7 oz. / 105 grams
Focus Adjustment: Inner Focusing System
Filter Size: 43mm
Lens Hood: EW-43
Lens Cap: E-43
Diagonal Angle of View: 63°30′
MTF Chart
So what do you think?  Are you lusting after this new system?  Love the idea of the APS-C sensor in such a tiny body?
Order this lens today for only $249.00.
Or, if you're looking for the whole system, order the bundle of the Canon EOS M and the EF-M 22mm f2 STM for only $575.00.