Canon has released an update to its "kit" zoom lens, the all new 55-250mm f/4-5.6 lens.  Canon has added their STM stepping motor and internal focusing (an improvement from the last iteration of the 55-250) to the lens.  STM lenses help with smooth and silent autofocus for video shooting, but are also an upgrade to the standard micromotor that drives many entry-level lenses.  While not quite as fast as Canon's USM autofocus motors, the STM system is close.  According to Canon, the lens has redesigned optics as well.
From initial tests, it appears that this lens does quite well. As can be seen in the MTF charts below, it has excellent performance for a lens at this price point. Combined with the new STM focus motor, this lens is a must have for anyone who doesn't have a telephoto lens. This lens will allow you to explore the amazing world of telephoto photography and capture images from afar with greater precision and speed.
Order now! I recommend Amazon or Adorama:
Lens Specifications
| | |
| --- | --- |
| Lens type | Zoom |
| Focal Length | 55mm-250mm |
| Aperture | f/4-5.6 |
MTF Chart
Press Release: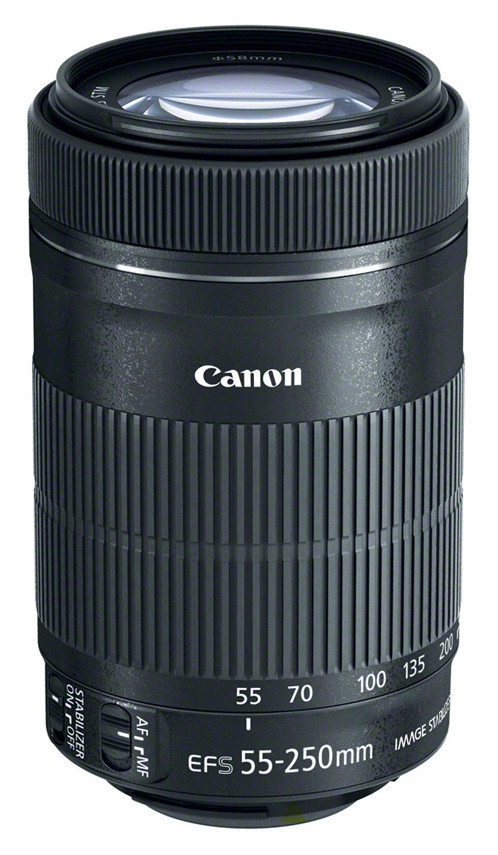 MELVILLE, N.Y., August 22, 2013 – Canon U.S.A., Inc., a leader in digital imaging solutions, is proud to introduce the new EF-S 55-250mm f/4-5.6 IS STM telephoto zoom lens. Created to be the perfect companion lens for the EOS 70D, EOS Rebel SL1 and EOS Rebel T5i Digital SLR cameras, the EF-S 55-250mm f/4-5.6 IS STM lens expands Canon's line of Stepping Motor (STM) lenses to six models – the EF-S 18-135mm f/3.5-5.6 IS STM, the EF 40mm f/2.8 STM, EF-S 18-55mm f/3.5-5.6 IS STM, EF-M 18-55mm f/3.5-5.6 IS STM, EF-M 22mm f/2.0 and the new EF-S 55-250mm f/4-5.6 IS STM lens. Canon's Stepping Motor lenses allow for the capture of high-quality still and video images and reduce motor noise from the lens so cameras, such as the new EOS 70D, will capture the sound of the video scene being recorded without the interruption of noise by the focusing motors.
The EF-S 55-250mm f/4-5.6 IS STM telephoto zoom lens offers high magnification in a compact and lightweight EF-S telephoto zoom lens with an Optical Image Stabilizer for up to 3.5* equivalent stops for shake correction. The lens' stepping motor and newly-designed focus mechanism support Canon EOS Movie Servo AF (available on select EOS cameras) to provide smooth and quiet continuous autofocusing during video shooting, as well as when shooting photos.
"The addition of the EF-S 55-250mm f/4-5.6 IS STM lens to the STM family of lenses strengthens Canon's support for the growing number of photographers and video enthusiasts utilizing DSLRs to not only shoot high-quality still images but video too," said Yuichi Ishizuka, executive vice president and general manager, Imaging Technologies & Communications Group, Canon U.S.A. "Noise reduction in movie mode is essential and video aficionados will particularly find the silent and smooth auto-focus capabilities of this new lens outstanding."
The EF-S 55-250mm f/4-5.6 IS STM telephoto zoom lens features one UD lens element, reducing chromatic aberration throughout the zoom range for excellent image quality with high resolution and contrast. It features enhanced lens coatings to help ensure superb color balance while minimizing ghosting and flare and a 7-blade circular aperture creates beautiful, soft backgrounds. For outstanding performance, a new compact six-group zoom system provides a maximum magnification of 0.29x at the telephoto end. Full-time manual focus is available in AF mode. The front element does not rotate during focus, which is beneficial when using polarizing filters. Minimum focusing distance is 2.79 ft./0.85m. The lens' rear focusing system, high-speed CPU and improved AF algorithm allow for high-speed autofocusing.
Availability
The EF-S 55-250mm f/4-5.6 IS STM telephoto zoom lens is scheduled to be available in late September for an estimated retail price of $349.99. For more information about the EF-S 55-250mm f/4-5.6 IS STM telephoto zoom lens, visit www.usa.canon.com/cusa/consumer/products/cameras/ef_lens_lineup.
* Based on CIPA (Camera & Imaging Products Association) standards. Testing performed using EOS 7D at focal length of 250mm (400mm in 35mm equivalence).
Sample Image