Along with the Canon Rebel T4i, Canon has released the all new Canon EF 40mm f/2.8 STM Pancake Lens. 
This lens has a focal length of 40mm and an aperture of 1:2.8 (f/2.8).  This is Canon's first pancake lens for its EF lens lineup.  It is almost half as short as Canon's smallest previous lens, the "nifty-fifty" 50mm f/1.8.  In addition to the size, the 40mm pancake weighs in at only 130g.  This is about 323g less than the 50mm 1.8.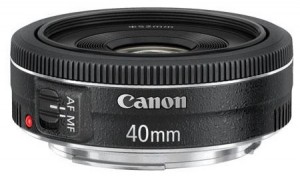 Review
*Please note this article is under construction.  We are in the process of completing our review and we will have it available as soon as possible!*
The Canon 40mm pancake lens is quite an interesting lens.  It is tiny, lightweight has a speedy STM autofocus motor, a decently wide aperture and best of all costs only a cool $199.
*Want to order the lens?  Click Here!
OR – not sure if you're ready to buy? why not rent it?
Full Specifications
Focal Length: 40mm
Maximum Aperture: f/ 2.8
Lens Construction: 6 elements in 4 groups (see below)
Closest Focusing Distance: 0.98 feets (0.3 meters)
Size: 2.7 x 0.9 in (68.2 x 22.8 mm)
Weight 4.6 oz (130g)Focus Adjustment: Inner Focusing SystemFilter Size: 52mm
Lens Hood: ES-52
Diagonal Angle of View: 57 degrees 30′
Technical Details
Lens Elements and MTF Chart