**UPDATE As of July 26th, 2012, Amazon has the Canon EOS Rebel T4i / 650D in stock!  Check it out here **
Canon's newest entry level DSLR Camera, the EOS Rebel T4i was recently found to have a slight manufacturing defect.
On Sunday afternoon, the T4i was removed from Amazon.com completely.  Prior to being removed, there had been a warning listed under the product about the recall.  Apparently Amazon decided it was a better idea to simply remove the product entirely.  This is a bit of a surprising move from Amazon as it may create confusion.  Additionally, it will likely lose them business.  Potential buyers are likely to search out other stores to purchase or at least "pre-order" one.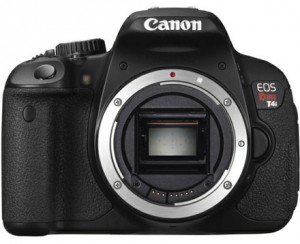 Additionally, many have reported that their pre-order of the device has been cancelled by Amazon.com.  In an email to customers who had pre-ordered the T4i, Amazon.com said:
"Greetings from Amazon.com.

We have recently learned that Canon USA is voluntarily recalling the EOS REBEL T4i Digital SLR camera.

The front rubber grips of some EOS REBEL T4i units may turn white after a short period of time due to the deposit of zinc bis (N,N'-dimethyldithiocarbamate) on the product during manufacturing as a result of a chemical reaction.

While Canon has not received any reports of injury or allergic reactions, allergic skin reactions may develop. In addition, if eyes are rubbed after contact with the substance, symptoms, such as red eyes, may develop.

Our records indicate that you have an open order which includes the Canon EOS REBEL T4i Digital SLR camera that is affected by this recall. Please know we have canceled the item from your order.

You may also find additional details about the recall in the Canon USA bulletin at:http://www.usa.canon.com/…geKeyCode=prdAdvDetail&docId=0901e024805ba6ce

We took this step as soon as we learned of the safety concern surrounding this product and regret the inconvenience this cancellation has caused. We trust that you will understand that the safety of our customers is our highest priority.

Thanks for shopping at Amazon.com.

Sincerely,

Customer Service
Amazon.com
http://www.amazon.com/"
While this is an interesting move on Amazon's part, it certainly makes some sense.  They are trying to protect their customers by not offering a product with a known potentially hazardous defect.  I'm sure it will re-appear as soon as they have returned all the T4i's with affected serial numbers to Canon and have new ones in stock!
What do you think about this?
**UPDATE As of July 26th, 2012, Amazon has the Canon EOS Rebel T4i / 650D in stock!  Check it out here **